Version 1.0 of my pedalboard is done. Here it is: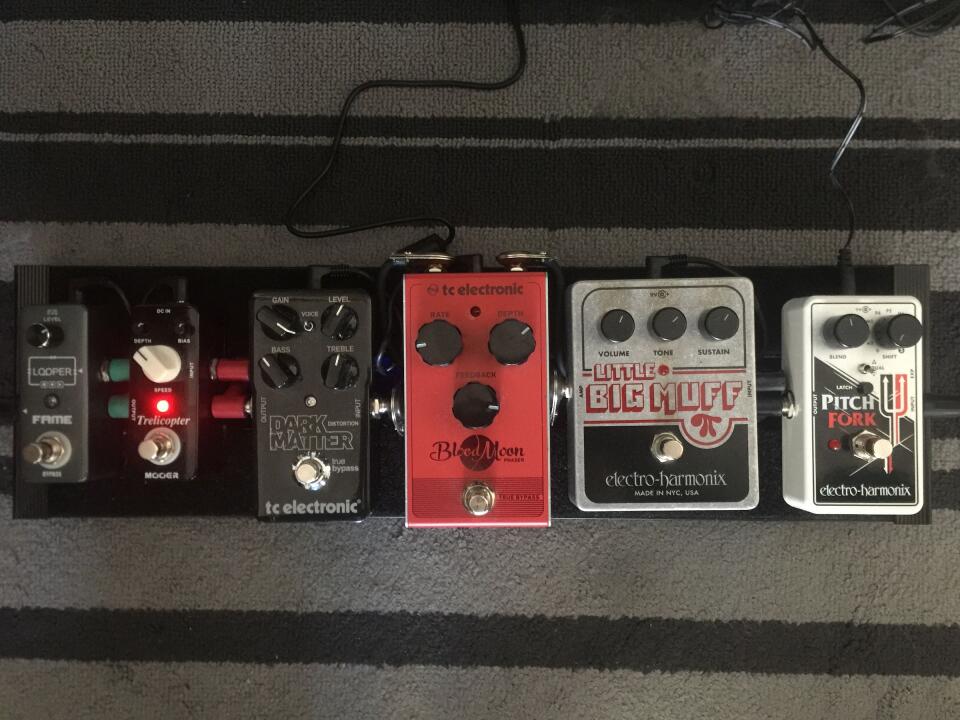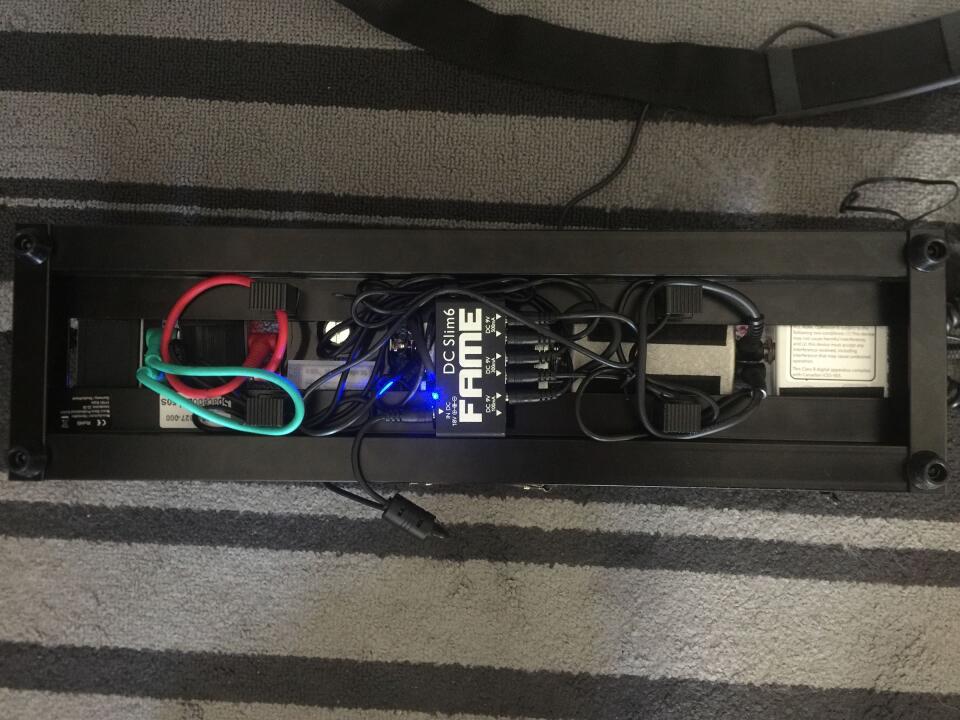 Overall I'm very happy with its functionality and layout. It looks quite neat I think.
And it was relatively cheap. Because none of these pedals is very expensive to begin with, and I also bought all of them used (turns out, there's a great used market out there!).
I'll walk you through the individual components:
Power Supply
Compared to the previous version, I now added a simple power supply – attached to the underside with velcro. Now – in theory – I only need to have a single power cable for the board.
In practice it's not quite true, unfortunately. Because it turns out the Pitchfork often wants its own power supply in order to not introduce some hiss. So, for that single pedal, I'm still using the power supply that came with it. That's a little annoying, but not too bad. I might simply go back to using a battery for this one.
EHX Pitch Fork
Most expensive pedal comes first. It's my Whammy and POG in one pedal. Using an additional expression pedal, I can do Whammy-like stuff – which I currently mainly use to play the "Like a Stone" solo.
And its ability to simultaneously add an octave above and below the played note makes for a super fat sound – especially with fuzz or distortion added. Much fun this one!
EHX Little Big Muff
Been listening to too much doom metal. And Jack White. So I wanted some fuzz.
TC Electronic Blood Moon Phaser
I wanted to try out a modulation pedal. And a phaser was a nice candidate. This is a very cheap rendition, but certainly good enough as a start. Makes my sloppy shredding sound actually fairly nice.
TC Electronic Dark Matter Distortion
Mainly bought to be used for bass playing. But also very handy for being able to footswitch between clean and dirt sounds with the little Katana Mini.
Mooer Trelicopter Tremolo
I blame this one on That Pedal Show. They use this regularly on their boards. And it's a cheap pedal. And I have been listening to Portishead's "Roads" too much recently.
Fame Mini Looper
Had this since Christmas. Pretty nice to play around with, but I haven't used it to its potential yet.
Maybe I'll record a little demo of the board some day (if I dare to appear on video).